Fri 10/13 - From China To Appalachia - Cathy Fink & Marcy Marxer with Chao Tian
Friday, October 13th Institute of Musical Traditions presents From China To Appalachia - Cathy Fink & Marcy Marxer with Chao Tian at 7:30pm. Tickets : $20 advance (+$2 box office fee) / $25 door.
Saint Mark Presbyterian Church
10701 Old Georgetown Road, Rockville, MD
Co-presented by the Institute of Musical Traditions and the Asian Arts & Culture Center at Towson University. Supported in part by a grant from Mid Atlantic Arts Foundation.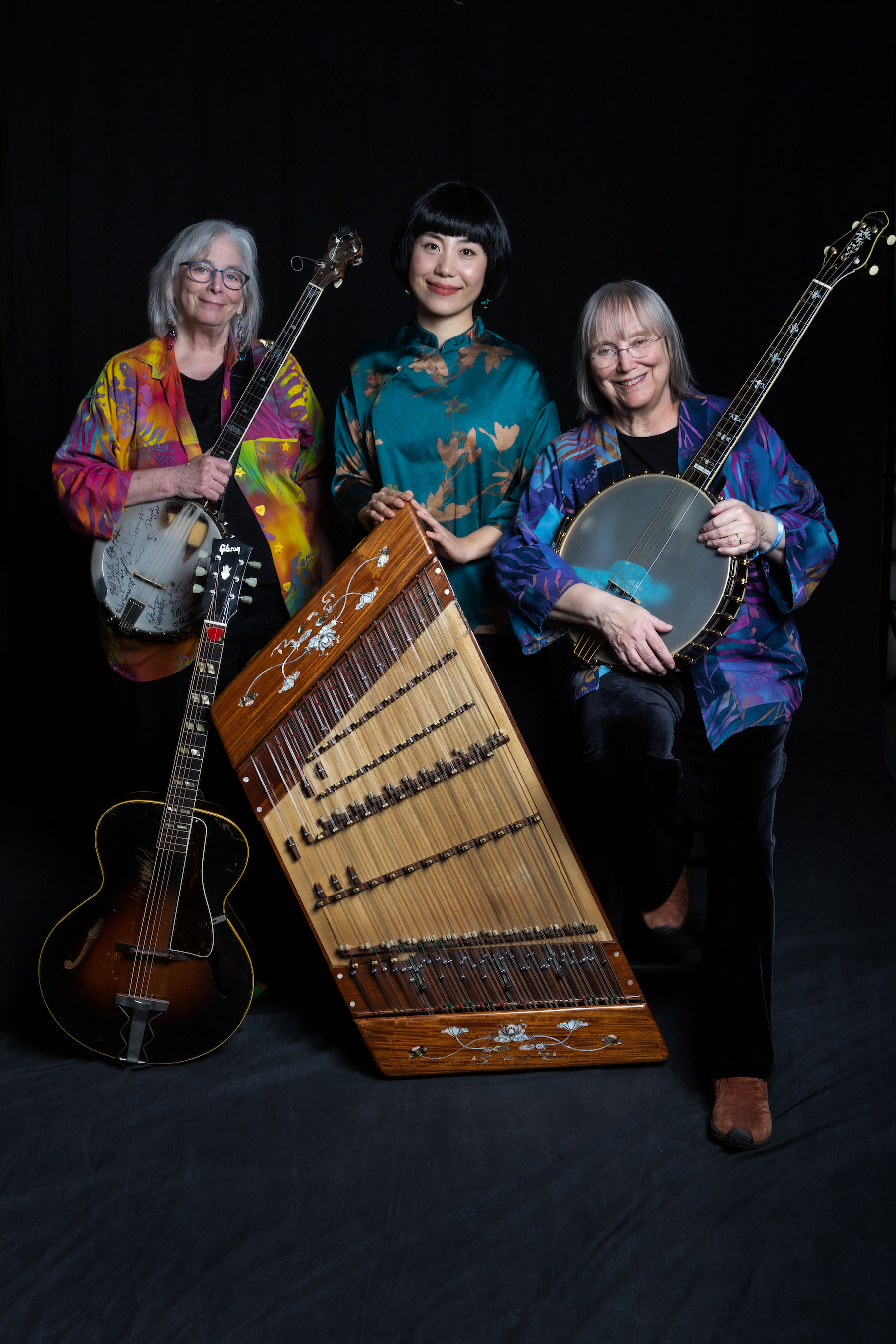 GRAMMY Award winning American Roots artists Cathy Fink & Marcy Marxer join with Chinese classical hammered dulcimer player Chao Tian in a show that combines music from China to Appalachia and beyond. Instrumentation includes yangqin (Chinese hammered dulcimer), gourd banjo, five-string banjo, ukulele, guitars, dumbek, cello-banjo and mandolin. 
The group's repertoire includes traditional Chinese and Appalachian music as well as contemporary and traditional music from around the world. Unusual combinations explore new arrangements to old music, such as "Dark Eyes." Ukulele, yangqin and guitar create a new pallet for this Russian folk song turned jazz manouche tune. Cathy and Marcy join Chao in singing a Chinese lullaby, "Nani Wan" and Chao easily adds her love of American Old-Time music to fiddle tunes and songs. 
From China to Appalachia was borne of a friendship and mutual love of musical exploration experienced in jam sessions that inspired a show speaking to the power of music to connect cultures. The trio's inaugural performances include the Music Center at Strathmore (N. Bethesda, MD) and the Ashe Civic Center (Ashe Co., NC). On their own, these awesome artists have performed at the John F. Kennedy Center for the Arts, Smithsonian Institution, Metropolitan Museum of Art, on PBS and National Public Radio. 
Classically trained since the age of five, Chao Tian spent years working as an instructor and the director of the Arts Education Center at Beijing Language and Culture University (BLCU). She is a founding member of BLCU Arts College's music department and has been appointed as an officer of the International Culture Exchange Program in 2019. 
Chao has performed in over 30 different countries and regions across the globe and collaborated with numerous talented musicians in many unprecedented projects. In 2015, she was accepted into the prestigious Artist in Residence program at the Music Center at Strathmore, where she met Cathy Fink. Cathy has served as a mentor-in-residence in that program for fifteen years. 
TWO-TIME GRAMMY® Award Winners, Cathy Fink & Marcy Marxer Marxer are master musicians with a career spanning 40  years. Their superb harmonies are backed by instrumental virtuosity on the guitar, five-string banjo, ukulele, mandolin, cello-banjo, and more. Their repertoire ranges from classic country to western swing, gypsy jazz to bluegrass, and old-time string band to contemporary folk (including some original gems). 
Cathy & Marcy have performed at hundreds of bluegrass and folk festivals and taught at close to 100 music camps worldwide. Happily known as "social music conductors" ready to start a jam session, a community sing, or create a music camp helping others learn to play and sing, the duo's past students include Kaki King and Rhiannon Giddens. 
Contact: info@cathymarcy.com
Doors open half an hour before showtime, online ticketing ends at 2pm day-of show. 
Though PayPal is used as our credit and debit card processor, no, you don't have to have a PayPal account. When you click "payment method" you will see a yellow button that says "checkout with PayPal". You will still be able to use a credit or debit card at that point. Please add your phone number and home address to the notes field so that we may contact you in the event of cancelation, or to thank you with a letter for donations as appropriate.