Tuesdays at the SPRING in Olney, MD!
Tuesday nights at the SPRING in Olney MD we hold the most COVID-safe open mic in the area! We believe we CAN have nice things! Upcoming featured artists include Poor Ellen Smith Band (TONIGHT!), Jesse Moody, Oldgrass String Band,  Jae Jin & Patty Reese... webcast Live on Facebook & YouTube. Details to attend, watch, or participate available at robsopenmics.ilyaimy.com.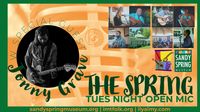 As always - Thank you in advance for your support:
Please remember, as an independent nonprofit 501(c)(3) organization Institute of Musical Traditions is made possible through ticket sales, grants and YOUR donations. Our Live webcasts don't make up for "real" shows - so IMT wants to weather the storm to be able to present these artists in the future! You can donate by heading over to paypal.me/imtfolk or by visiting us at https://imtfolk.org/support-imt
And thanks to our sponsors for their continued support!
We are a nonprofit 501(c)(3) organization supported by contributions from individual donors and by funding from the Maryland State Arts Council



Institute of Musical Traditions Inc. is supported in part by funding from the Montgomery County Government and the Arts & Humanities Council of Montgomery County.


Friends and Relations:
Here are a few organizations that share goals and values with IMT.

House of Musical Traditions

Artivate

Barnaby Productions

Comhaltas Ceoltoiri Eirean, O'Neill-
Malcolm Branch

Carpe Diem Arts

DC Bluegrass Union

Focus Music

Folklore Society of Greater Washington

The Greater Washington Ceili Club

Mary Cliff's Traditions

The Songwriters Association of Washington
Just announced! IMT's bringing Le Vent du Nord to Rockville - IN PERSON this time! If you joined us for our virtual show with this spectacular Quebcois force of nature you know this is not a show to be missed. If you didn't - well trust us - and get tickets at imtfolk.org today!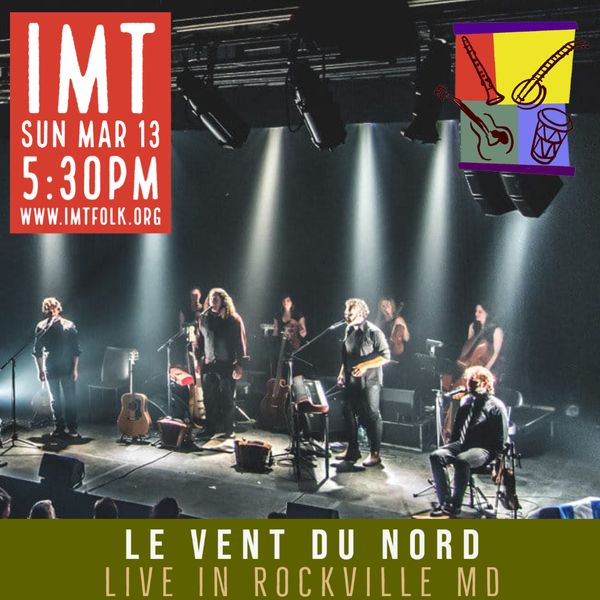 Sun, Mar 13, 2022 @ 5:30PM  
Saint Mark Presbyterian Church, 10701 Old Georgetown Rd, Rockville, MD
" Le Vent du Nord must melt the snow in their native Quebec. Led by twin fiddles and hurdy-gurdy, driven by incessantly rattling foot percussion, the quintet's unbridled energy rarely let up" 
— Jim Gilchrist, THE SCOTSMAN
The award winning and highly acclaimed band Le Vent du Nord is a leading force in Quebec's progressive francophone folk movement.  The group's vast repertoire draws from both traditional sources and original compositions, while enhancing it's hard-driving soulful music (rooted in the Celtic diaspora) with a broad range of global influences. 
Featuring button accordion, guitar and fiddle, the band's sound is defined by the hurdy-gurdy, which adds an earthy, rough-hewn flavor to even the most buoyant dance tunes." — Boston Herald 
Since its inception in August 2002, Le Vent du Nord has enjoyed meteoric success, performing well over 2,000 concerts over 4 continents and racking up several prestigious awards, including a Grand Prix du Disque Charles Cros, two Junos (Canada's Grammys), a Félix at ADISQ, a Canadian Folk Music Award, and "Artist of the Year" at Folk Alliance Annual Gala. 
The group exhibits great finesse and flexibility, appearing regularly on Canadian, American, French, and UK television and radio, and participating in a wide variety of special musical projects. They've collaborated and performed with a diverse range of artists including: Harry Manx, Väsen, Dervish, The Chieftains, Breton musical pioneer Yann-Fañch Kemener, Québecois roots legend and master storyteller Michel Faubert, the Scottish folk band Breabach, singer Julie Fowlis, and the trans-Mediterranean ensemble Constantinople. 
Not content with standard approaches to tradition, Le Vent du Nord has also created a symphonic concert that, according to Voir Montreal, "puts all traditional folk naysayers to shame." 
On stage these friends create intense, joyful and dynamic live performances that expand the bounds of tradition in striking global directions. This is the modern sound of tradition, a music of the here and now.
More info at leventdunord.com
Coming to IMT in March : 
Sat 3/12 Liam Purcell & Cane Mill Road
---
As above, Institute of Musical Traditions is pleased to assist in sponsoring "ALL WIGGED OUT: THE MUSICAL" starring Marcy Marxer. Mainstays of the roots music scene in the greater Washington area, mentors to generations of musicians, and heroines in family music, Cathy Fink & Marcy Marxer have continuously created music and events that serve the community. This production is a service to anyone going through cancer, their healthcare team, loved ones and community. 
 
IMT is helping raise $100,000 to help cover the costs of a high end film production of the musical - a pivot from the live performances originally planned before the pandemic closed theaters. All donations are fully tax-deductible either via GoFundMe or via check made directly to IMT with "ALL WIGGED OUT" in the memo section.
 
More info at imtfolk.org.
---
Other Area Events
With Covid-19 comes cancellations and it would be useless to try to guess when a regular events calendar might resume. However, there are still many online events to "attend" and all of our organizations can be supported in different ways.
One of our fellow local-music organizations, FocusMusic is maintaining a great list of their alumni performers' upcoming webstreams. We've got a lot of crossover with FocusMusic - take a look at focusmusic.org/Online-Shows 
Saturday, March 19th
FOCUSMUSIC, UPTOWN CONCERTS, WFMA & SAW PRESENT A TRIBUTE TO REBA HEYMAN.
Fourteen acts for $25 : Stephanie Corby, Ronny Cox, Terry Gonda and Kirsti Reeve, Lara Herscovitch, The Kennedys, Kate McDonnell, Dan Navarro, Tom Prasada-Rao, Jenny Reynolds, SONiA disappear fear, LisaBeth Weber, Annie Wenz and Jack Williams.
Tickets and info at focusmusic.org
---
Regular & repeating events:
For Storytelling and online song circles visit the Folklore Society of Greater Washington's Website!

Sundays at 4pm in Takoma Park - Drumspiration.
A FREE (donations encouraged!) live West African drumming class and jam led by Drumlady K (Kristen Arant) outdoors with live participants at the Takoma Park Gazebo from 4-5pm every Sunday. To join us, bring a drum and a chair. If you need a drum, contact Kristen through her website, www.drumlady.com.

Perhaps you need a Daily Antidote of Song? - Join Washington Revels and Carpe Diem Arts each day at 12 noon for an inspiring and uplifting Daily Antidote of Song with international recording artists from a broad range of cultures and traditions. Seven days/week. Information on their website : carpediemarts.org
---
Donations and Support
Be a patron of the arts if you're able and please consider making a tax-deductible donation to IMT. Even the smallest donation is a big help and you can give easily and securely at paypal.me/imtfolk or visit imtfolk.org for more information (and more ways to give!)