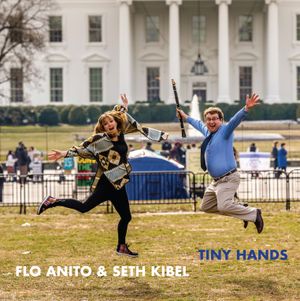 Tomorrow    at 7pm ET...
Every Tuesday night Institute    of Musical Traditions visits    the Sandy Spring Museum and hosts Dave Eisner & rob Hinkal run an open mic and webcast from Sandy Spring, MD at 7pm ET.    You can even come play! (registration required at sandyspringmuseum.org). Tonight we've    officially moved indoors for the season and require proof of vaccination or a    negative COVID test from the past 48 hours. But you should dig out that card    - our featured artists are Flo Anito & Seth Kibel!
 
Seth Kibel is one of the    Mid-Atlantic's premier woodwind specialists, working with some of the best    bands in jazz, swing, and more. Wowing audiences on saxophone, clarinet, and    flute, Seth has made a name for himself in the Washington/Baltimore region,    and beyond. He is the featured performer with The Alexandria Kleztet, Bay    Jazz Project, Music Pilgrim Trio, The Natty Beaux, and more. Winner of 28    Washington Area Music Awards (Wammies), including "Best World Music    Instrumentalist" (2003-11) and "Best Jazz Instrumentalist" (2005, 2007-8,    2011-14).
 
A quirky, clever songwriter with a great big voice, that is in turn, sweet,    sultry, powerful, and emotive, Flo Anito's stage presence is    undeniable. Classically trained in Voice, Piano, and Cello, raised on the    stages of Summer stock musical theatre, and having studied under Anthony    Braxton and Alvin Lucier at Wesleyan University, Flo's sound is a rare    hybrid. A Grand Prize winner on Ourstage, with multiple Wammy nominations for    Best Pop/Rock Vocalist, Best Jazz Song, Best Jazz Group, Best Country/    Americana Group and Best Folk Group, come see why Flo    Anito is wowing audiences internationally!
 
 Join us at the Sandy Spring Museum or tune in Live at facebook.com/Institute.of.Musical.Traditions or    on youtube.com/user/imtfolk.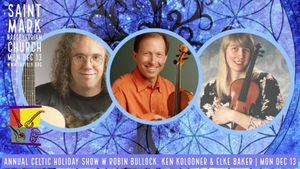 Tickets now available for our Annual Celtic    Holiday Show w Robin Bullock, Ken Kolodner & Elke Baker
 
A    Celtic celebration of the holidays, an annual IMT tradition, back in-person    again!
 
The    music of Christmas, perfectly suited to the ageless tones of the acoustic    guitar, comes to life in Robin Bullock's concert of carols and hymns spanning    over 600 years and melding the talents of Robin, Ken Kolodner (hammered    dulcimer) and Elke Baker (Scottish fiddle).
 
Information and tickets at www.imtfolk.org
 
Tuesday night open mic at the SPRING
 
Join    us for a weekly celebration of one of the SOURCES of creativity and    performance for any local scene, open mic night! Every Tuesday night we    invite beginners and pros and everyone in between to come share their talents    in the courtyard of the beautiful Sandy Spring Museum – or just    come listen! Details and online registration through imtfolk.org. Upcoming featured artists    include Flo Anito & Seth Kibel, MLEMON, Juels Bland, Sense of    Wonder, Jillian Matundan, Luke Roberts, Petrichord and Mark    "Muleman" Massey.        
---
As    above, Institute of Musical Traditions is pleased to assist in    sponsoring "ALL WIGGED OUT: THE MUSICAL" starring    Marcy Marxer. Mainstays of the roots music scene in the greater Washington    area, mentors to generations of musicians, and heroines in family music,    Cathy Fink & Marcy Marxer have continuously created music and events that    serve the community. This production is a service to anyone going through    cancer, their healthcare team, loved ones and community. 
 
IMT is helping raise $100,000 to help cover the    costs of a high end film production of the musical - a pivot from the live    performances originally planned before the pandemic closed theaters. All    donations are fully tax-deductible either via GoFundMe or    via check made directly to IMT with "ALL WIGGED OUT" in the memo section.
    
More info at imtfolk.org.        
---
Other Area Events
With Covid-19 comes cancellations    and it would be useless to try to guess when a regular events calendar might    resume. However, there are still many online events to "attend" and    all of our organizations can be supported in different ways.
 
One of our fellow local-music organizations, FocusMusic is    maintaining a great list of their alumni performers' upcoming webstreams.    We've got a lot of crossover with FocusMusic - take a look at focusmusic.org/Online-Shows 
 
FocusMusic Presents Emily    Hall and Deccan Traps
Saturday, November 13, 2021 7:30 PM • Focus Mount Vernon
 
Reston Herndon Folk Club presents    Tal Naccarato
Tuesday, November 16, 2021 7:25 PM - Amphora's Diner Deluxe - Herndon, VA
 
FocusMusic Presents ilyAIMY
Saturday, December 11, 2021 7:30 PM • Focus Rockville       
---
Regular & repeating events:
 
For Storytelling and online song circles visit the Folklore Society of    Greater Washington's Website! 
Sundays at 4pm in Takoma Park - Drumspiration.
A FREE (donations encouraged!) live West African drumming class and jam led    by Drumlady K (Kristen Arant) outdoors with live participants at the Takoma    Park Gazebo from 4-5pm every Sunday. To join us, bring a drum and a chair. If    you need a drum, contact Kristen through her website, www.drumlady.com.
Perhaps you need a Daily Antidote of Song? - Join Washington    Revels and Carpe Diem Arts each day    at 12 noon for an inspiring and uplifting Daily Antidote of Song with    international recording artists from a broad range of cultures and    traditions. Seven days/week. Information on their website : carpediemarts.org        
---
Donations and Support
Be a patron of the arts if you're able and    please consider making a tax-deductible donation to IMT. Even the smallest    donation is a big help and you can give easily and securely at    paypal.me/imtfolk or visit imtfolk.org for more information (and    more ways to give!)