Well, today's the day. Bob Dylan's 80th Birthday! Happy birthday Bob (Just in case he's reading our little updates). If YOU missed the show, you can still watch it in post right here on our YouTube channel! 
  
Below, check out details for our next show as WELL as Cathy and Marcy's fundraiser for their upcoming MUSICAL and how YOU can support it!
ilyAIMY at Stage of Musical Traditions  
Sunday, May 23, 2021, 1pm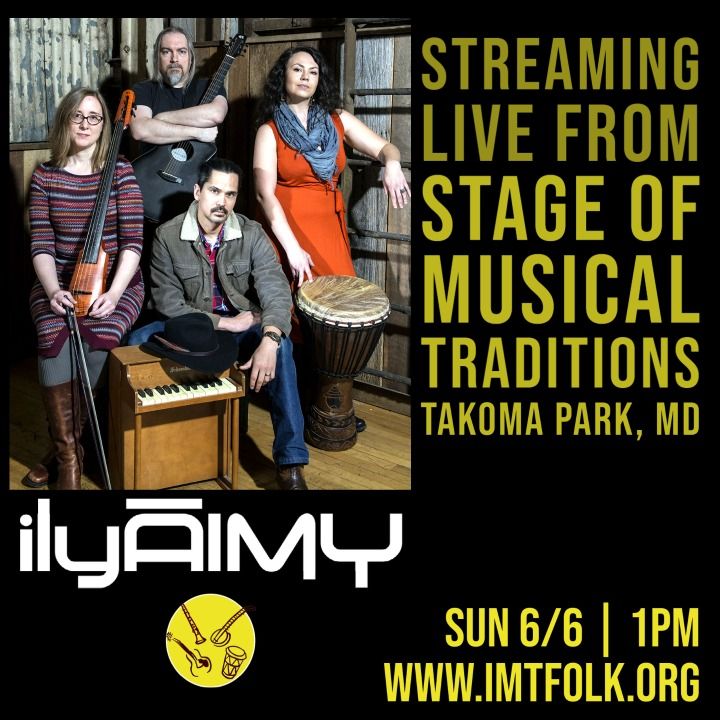 ilyAIMY 
Sun, June 6, 2021 at 1pm ET Live on Facebook and Youtube.com. 
Broadcasting Live from Stage of Musical Traditions | 7010 Westmoreland Ave., Takoma Park, MD 
Attend or tune in for free. Tipping and merch purchases strongly encouraged. 
  
Celebrating TWO wins from this year's Mid-Atlantic Song Contest, ilyAIMY has crisscrossed the nation for almost two decades. They have played everything from bait shops to biker weeks to clothing-optional resorts. They engage audiences with humor and award-winning narrative songs that pair an unforgettably soulful and powerful female vocalist with a percussive, clawhammer-like guitarist. Their infectious energy and rapid-fire lyricism is softened with cello and lush harmony, making ilyAIMY "a welcome jolt" and "an acoustically roiling, combustible attack on the usual singer/songwriter fare," say reviewers. 
  
Collectively their energetic brand of new-folk has garnered honors from the Ebb Bernard Songwriter Awards, Mid-Atlantic Song Contest, Kerrville Folk Festival, the Falcon Ridge Folk Festival, Washington Area Music Awards, Rocky Mountain Folks Fest, Telluride Bluegrass Festival, National Association for Campus Activities, the Northeast & Southeast Regional Folk Alliances and more. They are three-time winners of the Washington Area Music Association Winners for Best Contemporary Folk Group and are known for combining their award-winning songwriting, tight male/female harmonies, signature intricate slap-style guitar work, ukulele, percussion and an eclectically humorous stage show into an exquisite package. 
More at www.ilyaimy.com